Avocado and White Bean Salad
Pan-Fried Lamb Chops with Garlic
Potato and Leek Pancake
Cauliflower Cheese
Pan-Fried Lamb Chops with Garlic
Total time: 10 minutes
      Simple.  Sprinkle some seasonings on some chops and fry.    You can substitute Pork Chops, if you prefer, just cook a bit longer, although even pork can be faintly pink inside...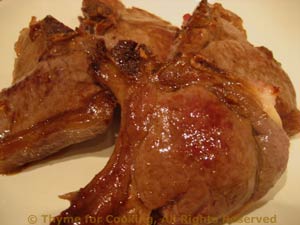 Ingredients:
4 - 6 lamb chops, depending on size and hunger
3/4 - 1 tsp paprika
3/4 - 1 tsp garlic powder
1/4 tsp salt
1 tbs olive oil
 Instructions:
Sprinkle paprika, salt and garlic powder on lamb chops.
Heat oil in large nonstick skillet over medium high heat.
Add chops and sauté 2 - 5 minutes per side, depending on thickness of chop and desired doneness.
Make a slit and peak if not certain.
Remove and serve.