Turkey Wild Rice Soup
Total time: 3 hours
      The key to a rich stock is to let it simmer over very low heat for a very long time to let all of the goodness eke out of the bones.  It's what gives a good stock a luscious 'mouth-feel'.  Use a turkey carcass from a roasted bird or buy wings, necks, and/or legs for the stock.  I used a leg and a thigh - and had more meat than I wanted for the soup - turkey salad sandwiches.
Stock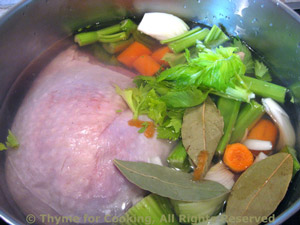 Ingredients:
The stock:
turkey carcass and some leftover turkey meat or 2 - 3 turkey wings or 1 turkey leg and thigh 
the tops from a bunch of celery or 2 ribs celery
2 carrots
1 onion
bouquet garni
3 bay leaves
8 - 10 cups water
salt or 1 chicken base/stock cubes
 Instructions:
Cut the vegetables into large chunks.  If you are using celery tops, use them all, including the leaves. 
Put turkey, vegetables, herbs and water in soup pot or Dutch oven.  If you are using a turkey carcass you may need to break it up to get it in and covered with water - and you may need more water than 8 cups.  You can reduce it later.
Cover, bring to a boil, reduce heat and simmer over very low heat for several hours, the longer the better. There should be bubbles breaking the surface occasionally, not steadily.  
When done, strain stock into another pot or large bowl, discarding vegetables, bones and skin.  Pick the turkey meat off the bones and reserve for soup. 
If time allows, chill stock and remove fat. Refrigerate turkey if not making soup immediately.
  Soup: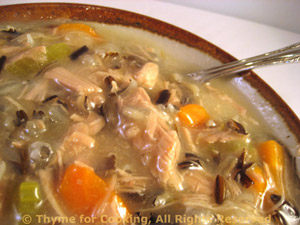 Ingredients:
8 cups turkey stock
2 - 3 cups turkey, cut into small pieces
3/4 cups wild rice  
4 carrots
3 ribs celery
1 large onion
2 tbs cornstarch (maizena, corn flour)
2 tbs dry sherry
3/4 cup milk
 Instructions:
Bring stock to a boil over medium heat. 
Lightly rinse the wild rice and add to stock. 
Cut carrots in half, the long way then thinly slice. 1/8" (3 cm).  Add to stock. 
Thinly slice celery, add to stock. 
Chop onion, add to stock. 
Cover, reduce heat and simmer for 45 minutes. 
Taste the soup, add salt, pepper, or a chicken stock cube/paste if needed.
Cut the turkey into small pieces and add to soup. 
Dissolve cornstarch in sherry and a bit of milk. 
Increase heat under soup to a hard simmer.  Stir in cornstarch mixture, stirring until it clears and thickens the soup slightly. 
Stir in the milk, heat through and serve.
Note:  The cornstarch is meant to thicken it very slightly, you may not really notice it when it's hot, but it makes it more unctuous.