Chicken Rice Soup
Total time: 120 minutes
      If you can get cheap chicken wings, add them to the stock for more flavor. I used Basmati but any rice will be delicious.  You can make it even more simple using just chopped, boneless chicken breasts and canned broth. The cornstarch doesn't thicken the soup so much as add a more luscious 'mouth-feel'.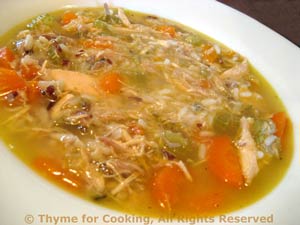 Ingredients:
The stock:

2 chicken breasts, with skin and bone
2 chicken thighs, with skin and bone   or a whole chicken
the tops from a bunch of celery or 2 ribs celery
1 carrot
1 onion
bouquet garni
6 cups water / stock   

enough to cover

salt or chicken base/stock cubes, or use some chicken stock instead of water
The soup:
4 medium carrots
4 ribs celery
2 medium leeks
1 tsp dried thyme
1/2 tsp dried basil
2 tbs whole grain mustard
3/4 cup (5oz, 150gr) rice
the chicken used to make the stock
6 - 8 cups chicken stock
2 tbs cornstarch dissolved in 4 tbs water
 Instructions:
The stock:
Cut the vegetables into large chunks.  If you are using celery tops, use them all, including the leaves. 
Put chicken, vegetables, herbs and water in soup pot or Dutch oven. 
Cover, bring to a boil, reduce heat and simmer for an hour if using parts, 2 or 3 hours if using a whole chicken.
When done, strain stock, discarding vegetables and reserving chicken.  If time allows, chill stock and remove fat.
Refrigerate chicken if not making soup immediately.
The soup:
Bring stock to a boil over medium heat. 
Cut carrots in half, the long way then thinly slice.  Add to stock. 
Thinly slice celery, add to stock. 
Clean leek, slice thinly, including 3 inches of green, add to stock. 
Add herbs, mustard, cover, reduce heat and simmer 20 minutes.
Add rice, simmer 20 minutes.
Dissolve cornstarch in water, stir into soup.
Cut the chicken into small pieces, discarding skin and bones. 
Add to soup and heat through.