Cup of Butternut Squash Soup
Lamb and White Bean Risotto
Lamb and White Bean Risotto
Total time: 30 minutes
    Risotto is the perfect way to use up leftovers!  I usually plan for them.  If you don't have lamb left you can substitute a cooked, (poach in stock) boneless, skinless chicken breast - or just skip the meat.  With all the lovely beans and vegetables, it's a satisfying dinner without it!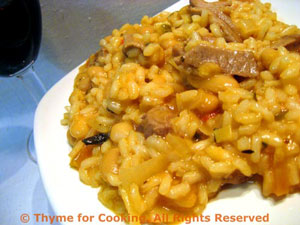 Ingredients:
2/3 cup (4.2oz, 125gr)

Arborio rice (or other rice specifically for risotto - Carnaroli or Vialone Nano)
1/2 cup (4oz, 120ml) dry, white wine
2 1/4 cups (18oz, 540ml) chicken stock
1 onion
1 tbs butter
1/2 cup (2oz, 60gr) Parmesan cheese - freshly grated

Condimenti

:
1 - 2 cups cooked lamb cut in bite-size pieces
1 cup leftover white beans, Breton style
1/4 cup white wine or chicken stock
 Instructions:
Heat chicken stock and keep hot over low heat. 
Finely chop onion. 
In medium sauce pan heat butter over medium-high heat. 
Add onion and sauté until transparent then add rice and sauté stirring, for 2 - 3 minutes until rice has white center. 
Add white wine and stir. 

Start condimenti.

 
When rice has absorbed most of the wine add a 1/3 cup of broth, stir.  
When broth is almost absorbed add another 1/3 cup and continue adding 1/3 cup at a time and stirring.  Before the last 1/3 cup taste a few kernels of rice.  They should be just 'al dente' - slightly resistant to the tooth but fully cooked.  If more broth is needed add it 1/6 cup at a time and waiting until almost completely absorbed. 
At this point risotto will be thick but not stiff - there will still be visible liquid and it will not hold it's shape on a plate. 
Add the Parmesan and the condimenti, stir well, spoon into a bowl or risotto platter and serve immediately.  It will continue to absorb liquid and the leftovers (if any) will be quite stiff. 
Condimenti:
While risotto is cooking, put all ingredients in a small skillet or saucepan.  Gently heat through, cover and keep warm until needed for risotto. 
Note: The risottos that we have eaten in northern Italy have all been served in soup plates (flattish bowls) and eaten with a spoon - not a fork.