Recipe in:
One Dish Dinners
  (Pies, Pizzas and Quiches)
Butternut Squash, Brie and Ham Quiche
Total time: 60 minutes
    The rice makes a lovely crust, much healthier than the traditional pastry.  This goes together quickly if you have the rice cooked earlier - just refrigerate until needed.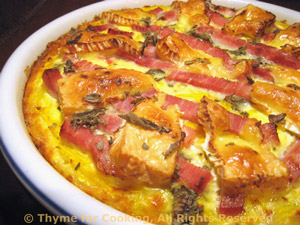 Ingredients:
 Instructions:
The Crust:

 
Cook rice in stock according to package instructions. 
When done, spread out on a plate for 5 minutes to allow to cool a bit.
Lightly oil a 10" (25 cm) pie or quiche plate. 
Lightly whisk 1 egg. 
Add 1/4 cup shredded cheese and the cooked rice. 
Mix well. 
Pat into the quiche plate, working it up the sides as best you can.
 Bake in 400F (200C) oven for 8 minutes. 
Remove.

The Filling:

Cut ham into strips and cheese into slices. 
Shred the squash using the large holes on a grater. 
Whisk eggs and milk together.

To assemble:

When crust is done, remove from oven. 
Spread squash evenly over the crust. 
Lay the ham on the squash and the cheese on the ham. 
Sprinkle the sage over all.
Pour the egg mixture over as evenly as you can. 
Bake for 30 minutes, until center has just set.
 Remove and let rest 5 minutes. 
lice and serve.
Note:  I usually put the quiche dish on a baking sheet to make it easier to handle – it gets kind of full.