Recipe in:
One Dish Dinners
  (Pies, Pizzas and Quiches)
Pizza Vesuvius con Jamón
Total time: 1 hour 10 minutes, if you make the crust from scratch,
                               35 minutes if you buy the crust
       I'll admit, the first time I encountered 'Pizza Vesuvius' I was curious.  Egg on pizza?  Weird!  Now it's my first choice.  It's great!  Really!  'Vesuvius' (I assume) comes from the fact the egg yolk is soft and 'erupts' when you cut into it.  You can leave the eggs off easily enough if you prefer....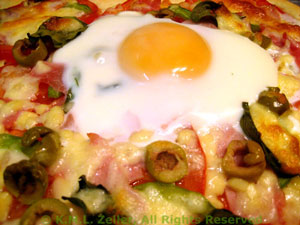 Ingredients:
Crust 

It's easy if you have the time

2/3 cup warm water, 105 - 115F,

hotter will kill the yeast

1 pkg (2 tsp) active dry yeast
1/2 tsp sugar -

you need this to 'feed' the yeast

1/2 tsp salt -

you need this to 'control' the yeast

1 tbs olive oil
2 cups flour
Topping:
1 onion
1 clove garlic
1 tbs olive oil
1 tsp oregano
1 tsp basil
8oz (240ml) tomato sauce (or pizza sauce)
4oz (120gr) thinly sliced Prosciutto
1/2 cup olives, dry-cured Greek black  or green
2 eggs 
3/4 cup (3oz (90gr)  shredded cheese, Mozzarella
1/2 cup (2oz, 60gr)  freshly grated Parmesan
 Instructions: