Recipe in:
One Dish Dinners
  (Stir-Fries and Skillet Dinners)
Stuffed Peppers, Italian Style
Total time: 40 minutes
   I originally did this with a tiny pasta called Frog's Eyes (Acini di'Pepe), but I can't get it here so have substituted couscous.  You can use the pasta if you have it or even Vermicelli, but it will take a few minutes longer in the skillet.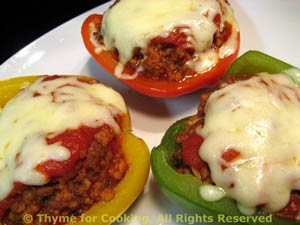 Ingredients:
 Instructions:
Put a large pot of water on high heat and bring to a boil. 
Cut peppers in half the long way (try to find the best flat sides before cutting so that they will lay nicely) and remove stem end and seeds.
When water is boiling drop peppers in and simmer for 5 minutes. 
Remove (use tongs) and put into a baking dish that will just hold them (if possible). 
Finely chop onion, celery and garlic. 
In nonstick skillet heat oil over medium-high heat.   Add paprika, fennel and chili powder and sauté 1 minute. 
Add garlic, celery and onion and sauté until transparent, about 5 minutes. 
Add beef and sauté until cooked through breaking it up as it cooks. 
Drain tomatoes, reserving 2 tbs of juice.  Chop and add to pan.  
Add reserved 2 tbs tomato juice, herbs, couscous and 1/3 cup red wine to skillet.  Stir well. 
Turn heat to low, cover and simmer until couscous is done, about 5 minutes, stirring frequently and adding more wine if necessary. 
When ready spoon mixture into the pepper halves.  Cover with foil and bake for 15 minutes at 400F (200C). 
Remove foil and top with cheese. 
Bake, uncovered for another 5 minutes.  Remove from oven and serve.