Pasta with Chicken, Peppers and Herbs
Total time: 25 minutes
   Not quite a winter pasta dish; not quite a summer salad; the cherry tomatoes and first herbs are definitely spring. You can sprinkle the chicken with paprika and chili powder and cook on the barbecue grill rather than sauté.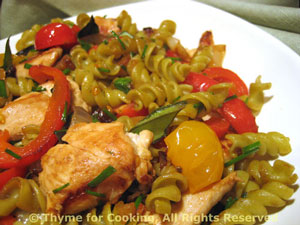 Ingredients:
2 chicken breasts, boneless, skinless
1 red bell pepper
1 medium onion
2 cloves garlic
1/2 tsp paprika
1/4 tsp chili powder
1 tsp Worcestershire
1 tbs oil
1/3 cup (3oz, 90ml) chicken stock
3/4 cup (3oz, 90gr) cherry tomatoes
1 1/4 cup (4.1oz, 120gr) pasta
2 tbs shredded basil
2 tbs fresh, snipped chives
 Instructions:
Cook pasta according to package directions. 
Cut each chicken breast into 3 pieces. 
Slice pepper into long strips. 
Cut onion in half then slice. 
Mince garlic.
Snip chives and basil.
Cut cherry tomatoes in half.
Heat 1 tbs oil in a large skillet over medium heat. Add paprika, chili powder, Worcestershire and sauté briefly.
Add chicken and brown well, about 5 minutes.
Add peppers, onions and garlic, stir-fry 1 minute.
Add chicken stock, reduce heat, cover and let cook for 5 - 8 minutes, until chicken is cooked through and vegetables are just starting to get tender.
Add cherry tomatoes and stir well, tomatoes should just barely get hot. 
Add drained pasta, stir to combine. 
Stir in fresh herbs and serve.