Pasta with Chicken, Avocado and Peanut Sauce
Total time: 25 minutes
   Peanut sauce goes very well with avocado and is great with a warm, summery pasta. I used the pepper raw, but you can add it to the onions to sauté if you like.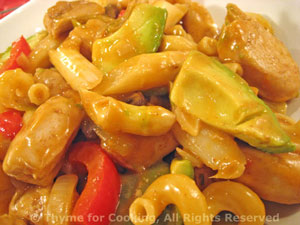 Ingredients:
1 1/4 cups (4.1oz, 125gr) pasta
2 chicken breasts, boneless, skinless
1 red bell pepper
4oz (120gr) mushrooms
1 avocado
1 medium onion
2 cloves garlic
1/2 tsp paprika
1/2 tsp cumin
1/2 cup (4oz, 120ml) chicken stock
1/4 cup (2oz, 60ml) sherry
2 tbs peanut butter

creamy

1 tbs soy sauce
2 tsp sesame oil
1 tsp olive oil
 Instructions:
Cook pasta according to package directions.
When done, drain and put into large bowl.
Cut chicken breasts into large, bite-size pieces. 
Trim and slice mushrooms. 
Slice onion. 
Mince garlic.
Cut pepper into long strips.
Heat oils in a large skillet over medium heat.
Add paprika, cumin, and sauté briefly. Add chicken and brown well, about 5 minutes.
Add mushrooms, onions and garlic, stir-fry 2 minutes.
Add chicken stock, sherry, reduce heat, cover and let cook for 5 minutes, until chicken is cooked through and vegetables are just starting to get tender.
Add pepper, soy sauce, peanut butter and stir well.
 Add to pasta, stir to combine.
Cube avocado.
Add avocado to pasta, stir gently to combine and serve.