Tuna and Goat Cheese Lasagne
Total time: 50 minutes
     This is a simple lasagne, using no cooked ingredients.  Because there is no hot sauce to start, I increased the baking time by 10 minutes.  I puréed whole tomatoes rather than using prepared sauce.... It has a fresher taste.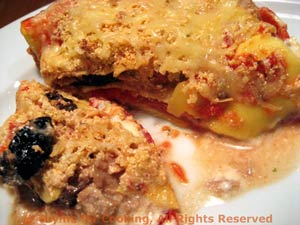 Ingredients:
 Instructions:
Open and drain tuna.  Put it into a bowl or on a plate and flake with a fork. 
Open and drain pimiento, slice or chop if whole.
Purée the tomatoes, with all juices, in a blender. 
Add the herbs, garlic and wine, mixing well. 
Put the egg in a medium bowl and whisk lightly.
Add the goat cheese and milk and whisk well to combine.
Pit the olives if needed and roughly chop.
Shred and/or grate the cheeses
Now you are ready to assemble:
In a 10" (25cm) square baking dish, or so... make the following layers
1/3 tomato sauce
3 - 5 noodles   breaking to fit as needed
1/2 goat cheese sauce
all of shredded cheese
3 - 5 noodles
1/3 tomato sauce
all of the pimiento
all of the tuna
3 - 5 noodles
1/2 goat cheese sauce
all of the olives
3 - 5 noodles
1/3 tomato sauce
sprinkle with Parmesan cheese
Cover and bake 400F (200C) for 25 - 30 minutes, or until noodles are done.  Test in center with a sharp knife. 
When noodles are tender, uncover and bake 5 minutes longer to brown cheese. 
Remove and let rest for 5 minutes. 
Cut into squares (or oblongs) and serve.