Chicken and Butternut Squash Lasagne
Total time: 50 minutes
    There are three interesting and different layers in this lasagne... and lots of vegetables!. I added a bit of yogurt to the Béchamel as a counterpoint the sweetness of the squash.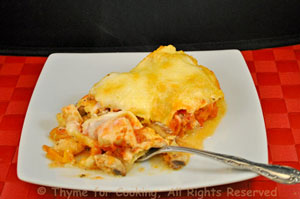 Ingredients:
 Instructions:
Tomato Sauce:

Cut chicken into small pieces, 1/3" (1cm) or less.

Roughly chop tomatoes, reserving all juices.
Heat 1 tsp oil in medium skillet.  Add chicken and sauté until cooked through.
Add tomatoes, all juices, oregano, basil, cover and simmer 10 minutes or until needed.

Vegetables:

Trim and chop mushrooms.

Cut butternut squash into small pieces, 1/4" (.75cm).
Trim leeks.  Slice in half the long way and rinse well.  Thinly slice, up to and including some of the pale green.
Mince garlic.
Heat 1 tsp oil in nonstick skillet. Add mushrooms, leeks, garlic, paprika and sauté until tender.
Remove to a plate.
Add remaining 1 tsp oil and butternut squash. Sauté until tender, about 10 minutes. Remove from heat.

The Béchamel:

In a medium saucepan heat the butter over low heat. 

Add flour and stir with a whisk for 1 minute.
Add a little (1/4 cup) of the milk and whisk to combine.
Turn heat up to medium and keep adding milk, a little at a time and whisking.  You should have added all of the milk in a minute or 2.
When all of the milk is in, bring to a boil (should almost be there), whisking.
Remove from heat and stir in yogurt. 
To Assemble:
In a 10" (25cm) square (or 11 x 9) baking dish, make the following layers

1/4 of the tomato sauce

 

  try for just the juice, no chicken....

3 - 4 noodles

  

you may have to break another one up to get good coverage 

butternut squash
1/2 béchamel sauce
3 - 4 noodles
ricotta cheese
mushroom leek mixture
3 - 4 noodles
remaining tomato sauce with chicken
3 - 4 noodles
1/2 béchamel sauce
To Finish
Cover and bake 425F (215C) for 20 minutes, or until noodles are done.  Test in center with a sharp knife.
Uncover, sprinkle with shredded cheese and bake 5 minutes longer to brown.
Remove and let rest for 5 minutes.  Cut into squares (or oblongs) and serve.