Ham and Spicy Red Beans on Brown Rice
Total time: 30 minutes
    You can add jalapeños or other hotter peppers if you like; or finish it with Tabasco or other hot sauce.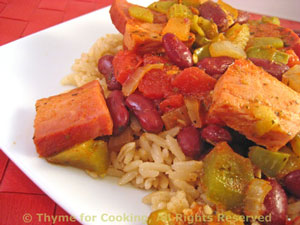 Ingredients: 
 Instructions:
Chop onions, celery and pepper. 
Finely chop garlic. 
Heat oil in large, nonstick skillet over medium heat.   Add chili powder and sauté 10 seconds. 
Add onions, celery, pepper, garlic and sauté 7 - 8 minutes.
 Trim ham and cut into bite-size pieces.  Add ham and sauté briefly. 
Drain and rinse the beans.  
Drain the tomatoes then roughly chop. 
Add beans, tomatoes, juices, Worcestershire, and herbs. 
Cover and simmer over low heat for 15 minutes. 
Add green chilies and simmer 5 minutes more. 
Taste and add anything you like to make it hotter. Serve over rice. 

Brown Rice 

Cook rice according to package instructions adding the herbs with the stock.
Fluff and serve.