Recipe in:
One Dish Dinners
  (Stir-Fries and Skillet Dinners)
Ham Hash with Poached Eggs  
Total time: 30 minutes
    A classic, and so easy to do - using all fresh ingredients or leftovers from a Boiled Dinner.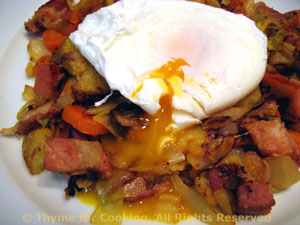 Ingredients:   
 Instructions:
Cut potatoes and carrots into large bite-size pieces and steam for 10 - 15 minutes over medium-high heat, until vegetables are just tender. 
Chop onion, celery and mince garlic. 
Roughly chop enough cabbage to equal 1 1/2 cups.
Cut corned beef or ham into bite-size pieces. 
Heat oil in a large nonstick skillet over medium heat. 
Add onion, celery, cabbage and sauté until tender, about 7 minutes. 
Cover, reduce heat and let cook for 5 minutes longer or until potatoes and carrots are done.
Add potatoes, carrots, beef or ham, to skillet, increase heat to medium, and let fry, undisturbed, for about 7 minutes. 
Then turn/stir, spread back out and let fry, undisturbed, for 5 minutes. 
Repeat, turning and frying until it is as golden and crispy as you like it. 
When it's done to your liking, reduce heat and poach eggs. 
The Eggs:
Fill a large skillet with water.  The water should be at least 1 1/2" (4cm) deep.
Heat water over medium-high heat. 
Add vinegar. 
When water is softly boiling reduce heat and poach eggs: one at a time break egg into a small saucer.  Swirl a spoon in the water where you will put the egg - off to one side.  When water is swirling drop egg into center.  With slotted spoon try to keep the white together. 
Do next egg. 
With regular spoon scoop some hot water over tops of eggs. Poach for 2 - 3 minutes or until white is set but yolk is still very soft. 
Remove eggs with a slotted spoon and put on hash.
To serve: 
Put half of the hash on each plate and top with a poached egg.
With Leftovers
 Ingredients:
 Instructions: