Recipe in:
One Dish Dinners
  (Stir-Fries and Skillet Dinners)
Zucchini (Courgette) Stuffed with Sausage and Couscous
Total time: 40 minutes
     The zucchini are partially cooked while the stuffing is made, so they only need to be baked to finish - and melt the cheese.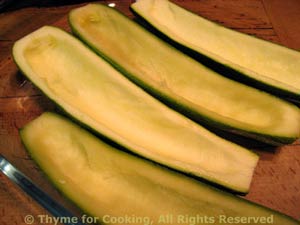 Ingredients:
 Instructions:
The zucchini: 
Cut zucchini in half the long way.  With a small spoon scrape out the seeds and flesh from the center forming long boat-like shells.  Leave 1/4" (.6cm) at either end to hold in the filling. 
Put them in a baking dish, single layer, cover with foil and bake, 400F (200C), for 15 minutes. 
Remove and keep covered until ready to fill.
The couscous:
Heat chicken broth to boiling. 
Put couscous in a bowl, pour chicken stock over and cover.  Do not stir. 
Let sit, covered, for 10 minutes.
The stuffing: 
Chop onion and pepper. 
Mince garlic. 
Heat olive oil in nonstick skillet over medium-high heat.  Add chili powder, cumin, and sauté briefly. 
Add onion, pepper and garlic, sauté until tender, about 5 minutes.
Add sausage to skillet and cook, breaking it up as it browns.
Add tomato sauce, Worcestershire, oregano and heat through.
Add couscous, stir to combine and remove from heat. 
The finish:
Spoon filling into the zucchini shells.  Any filling that doesn't fit, just keep warm and serve on the side.
Cover zucchini with foil and bake for 15 minutes. 
Remove, uncover, sprinkle with cheese and bake 5 minutes longer.
Serve, leftover filling on the side.