Baked Courgette (Zucchini) Stuffed with Goat Cheese
Grilled Tuna with Tomato Tarragon Mayonnaise
Spanish Brown Rice
Wilted Spinach
Grilled Tuna with Tomato/Tarragon Mayonnaise
Total time: 25 minutes
    Good tuna doesn't need much fussing: a bit of fruity olive oil, quickly cooked on the barbecue grill and finished with some freshly ground black pepper.  In case you didn't know - the very dark part of the tuna is fat, and can taste quite 'fishy'.  I don't remove it but I also don't eat it - personal preference. Serve with Tomato Tarragon Mayo on the side for added interest.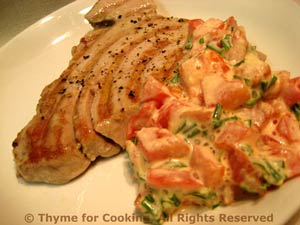 Ingredients:
 Instructions:
Brush both sides of tuna with oil.

Cook on barbecue over medium-high heat either in a basket or on a mesh grill pan. 

You could do it directly on the grill but make certain the grill is clean or the fish will stick

.  If it is good, sushi-grade tuna (which, of course, it will be) we like it medium rare so we cook it 2 - 4 minutes a side.  For more well-done cook it 6 - 8 minutes a side but try not to overcook or it becomes dry.  For well-done it should just start to flake easily.
You can also broil it for 4 - 6 minutes a side or sauté in a nonstick skillet for 4 - 7 minutes a side. 
All times depend on thickness of tuna and how well-done you want it - you may have to adjust up or down.
Remove tuna from heat, sprinkle with black pepper and serve, Tomato Mayonnaise on the side.
Tomato Tarragon Mayonnaise
Chop tomato, mince garlic and snip herbs: hold leaves in one hand and snip with a scissors.
Put into a small bowl and add mayonnaise. 
Mix well and serve.