White Bean and Celery Salad
Grilled Barbecued Tuna
Potato Salad with Mushrooms and Chevre
Grilled Barbecued Tuna
Total time: 30 minutes
    If you get sushi-grade tuna you will definitely want to have this rare (it has to be graded to a higher standard so it is okay to eat raw).  Regular tuna we normally have medium.  We cook a 1 inch (2.5cm) thick piece for 10 minutes on hot charcoal, indirect heat, cover closed.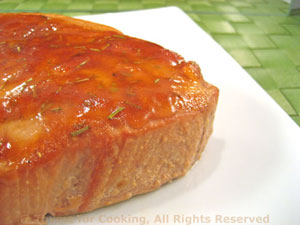 Ingredients:
2 tuna steaks, 6oz (180gr) each
2 tbs soy sauce
2 tbs orange marmalade
2 tbs ketchup
1 tbs olive oil
1/4 tsp ginger
1/2 tsp rosemary
1/4 tsp garlic powder
 Instructions:
Note:  A grill basket, skillet or mat makes working with fish easier.