White Bean and Celery Salad
Teriyaki Grilled Swordfish
Polenta Salad
Teriyaki Grilled Swordfish
Total time: 15 minutes
      The steaks we had were quite thin, about 1/3" (1cm).  They cooked very quickly on the grill, about 2 minutes per side.  If you prefer, you can quickly pan-fry them for about the same amount of time. We use a grill basket for fish; it makes it easier to handle the filets or steaks.  You could also use a silicone mat - but no grill marks!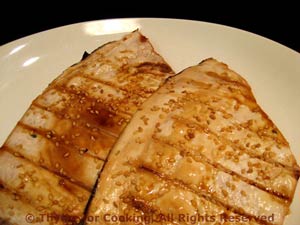 Ingredients:
1 - 2 swordfish steaks, 12oz total (360gr)
2 tbs Teriyaki sauce, divided
2 tsp toasted sesame seeds
 Instructions:
Lightly oil fish basket or grill. 
Brush 1 tbs Teriyaki sauce on swordfish. 
Place in oiled fish basket or on oiled grill rack over direct heat.  Cook 2-4 minutes per side, depending on thickness, turning once, or just until done.  Do not over cook!  The fish should flake easily and be opaque, but overcooking will dry it out.  Remove. 
Pour remaining 1 tbs Teriyaki sauce over the top, sprinkle with sesame seeds and serve.

To toast sesame seeds: 

Put them into a dry, nonstick skillet over medium heat.  Toss or stir them about in the pan until lightly golden, about 5 minutes.