Pasta with Smoked Salmon
Total time: 30 minutes
    I use crème fraiche for this.  You can substitute sour cream if you like - it will be a bit more tart; or heavy cream  - it will be a bit higher in calories, or Greek yogurt.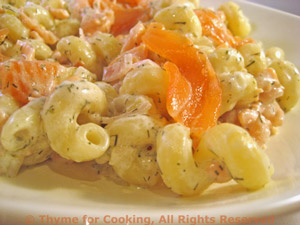 Ingredients:
 Instructions:
Cook pasta according to package directions. Drain.
Thinly slice shallots and sauté in oil until tender. 
Add wine and simmer until reduced by half. 
Stir in crème fraiche and heat through, do not boil. 
Slice salmon into strips. 
Add 3/4 of the salmon, dill and lemon juice to the crème fraiche.
Heat through but do not let boil. 
Add pasta and toss well to combine.
Put it into a serving bowl, garnish with reserved salmon and serve.