Recipe in:
One Dish Dinners
  (Stir-Fries and Skillet Dinners)
Stir-fried Shrimp with Snow Peas (Mangetout)
Total time: 20 minutes
   The bright green pea pods make this a showy dish, delicious served on fluffy, fragrant Basmati Rice.  I don't normally use all of the water chestnuts in the can - mon mari snacks on them.  Use as many as you like.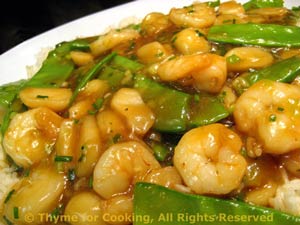 Ingredients:
 Instructions:
To Prep:

Peel and clean shrimp if needed. 
Trim the green onions, slicing off the root and removing 1 layer.  Thinly slice, using some of the darker green. 
Mince garlic and ginger (peel it first). 
Snip chives.
Trim snow peas, cutting the ends off. 
Open and drain water chestnuts; slice the large ones. 
Dissolve cornstarch in soy sauce and water. 

To Cook:

Basmati Rice:
Heat butter and oil in a small saucepan over medium heat. 
Add rice and sauté, stirring for 1 minute. 
Add stock, cover and cook rice for length of time on package.  When done fluff with fork.
Heat oils in large nonstick skillet over medium-high heat.  
Add onions to skillet and stir-fry for 30 seconds. 
Add garlic, ginger, shrimp, stir-fry 1 minute, until shrimp start to curl and turn opaque. 
Add snow peas, water chestnuts, and stir-fry 1 - 2 minutes. 
Add chicken stock and sherry, bring to a boil. 
Add cornstarch mixture, stir until cleared and thickened. 
Stir in chives.  
Add more soy sauce if desired, according to taste. 

To Serve:

 
Arrange Basmati on a large platter.
Spoon Shrimp and Snow Peas on top and serve.