Red Sauced Shrimp
Total time: 10 minutes
     This is one of those dishes that can be as hot or not as you like. The ginger, garlic and red pepper flakes add the heat but you could also add other hot sauce to taste.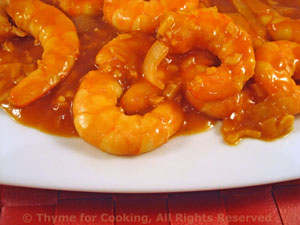 Ingredients:
12oz (360gr) cleaned shrimp

1 tbs minced ginger,

about 4 slices the size and thickness of an American quarter or 1 euro coin

3 cloves garlic
4 - 6 green onions (scallions)
2 tbs sherry
2 tbs soy sauce
2 tbs ketchup
1 tbs olive oil
1 tbs sesame or walnut oil
1 tbs cornstarch (maizena) dissolved in 2 tbs chicken stock

1/2 tsp red pepper flakes

(optional, I leave them out as it makes it too hot for me)
 Instructions:
Peel, slice and mince ginger.
Mince garlic.
Clean the green onions: slice off the root, remove 1 layer of skin.  Slice into 1/2" (1.25cm) long pieces.  OR chop onion. 
Dissolve cornstarch in chicken stock.
Have everything else measured and ready.
Heat oils in large nonstick skillet or wok over medium-high heat.  When very hot add ginger, garlic and onion (and red pepper flakes if using).  Stir-fry for 1 minute.
Add shrimp and stir-fry for 1 - 2 minutes longer, until shrimp turn opaque and start to curl.
Add sherry, ketchup and soy sauce.  Stir to combine.
Stir cornstarch mixture to recombine, then add it to the shrimp, stirring constantly.
Sauce will quickly thicken and coat shrimp.  Remove and serve immediately.