Shrimp (Prawns) with Pesto Pasta
Total time: 25 minutes
   Served warm to bring out the flavors, the pesto works amazingly well with the shrimp, and the, more traditional, pasta.  If you have to clean the shrimp add 10 - 15 minutes.  You can use raw or cooked shrimp for this as the flavor is in the sauce rather than a marinade.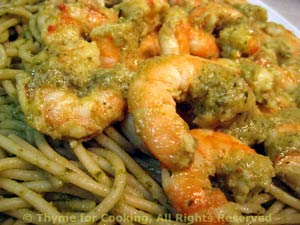 Ingredients:
 Instructions:
Cook pasta according to package directions.  When done, drain. 
Clean shrimp if needed, if not just rinse and let drain. 
Mix 2 tbs pesto, lemon and oil.  Add shrimp and toss to coat. 
Heat a nonstick skillet over medium-high heat.  Add shrimp and sauté for 3-5 minutes, until raw shrimp curl and turn opaque or cooked shrimp are heated through. 
To finish: 
Mix  1/3 cup pesto and oil.
Add to pasta and toss well to coat. 
Arrange nicely on a platter or large plate. 
Lay the shrimp on top of the pasta and spoon any remaining sauce from the pan over the top. 
Serve.