Scallops in White Wine
Total time: 30 minutes
    Sweet scallops with a simple wine sauce. Scallops are best when cooked quickly over fairly high heat.  Overcooking tends to make them tough.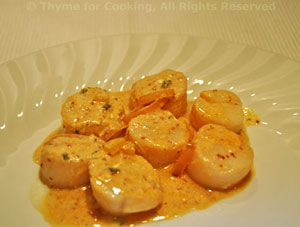 Ingredients:
10oz (300gr) large scallops
1 shallot
1/2 tsp paprika
1/2 tsp chives
1/4 cup wine
1/4 cup chicken stock
1 tbs Dijon-style mustard
1/4 cup Greek yogurt
2 tsp olive oil
 Instructions:
Slice shallot.
Heat oil in a medium skillet.  Add shallot and sauté until tender.
Move to the side.  Add scallops and quickly brown on both sides over high heat.
Remove scallops.  Reduce heat and add paprika, chives, wine, stock and mustard.
Stir well to scrape up the browned bits and the shallots.
Stir in yogurt, return scallops to heat through.
Serve.