Simple Lettuce and Tomato Salad
Grilled Scallops with Tomato Salsa
Grilled Polenta
Braised Carrots and Shallots
Grilled Scallops with Fresh Tomato Salsa
Total time: 15 minutes
    Scallops only take a few minutes to cook They should just go from translucent to opaque.  If you cook them longer they can get tough. We do ours on the barbecue grill but a hot skillet would work just as easily.  Be careful not to crowd and have the pan or grill hot.  They can give off a bit of liquid and you want them to brown, not steam. These are flavored with chili powder and garlic and finished with a spicy Tomato Chili Salsa.
 Ingredients:
12oz (360gr) sea scallops (large scallops)
1 tsp chili powder
1 tsp garlic powder
1 tbs olive oil
2 - 3 skewers  

optional

Tomato Salsa:
2 garden fresh tomatoes
1/2 green bell pepper
1/2 red onion
1 tsp chili powder
1/2 tsp dry mustard
1 tsp soy sauce
1 tsp Balsamic vinegar
1 tbs fresh oregano, snipped  

substitute 1 1/2 tsp dried

1 tbs fresh parsley, snipped   

substitute 1 1/2 tsp dried

4oz (125gr) green chiles, drained.

(use something hotter if you like... I don't do 'hot')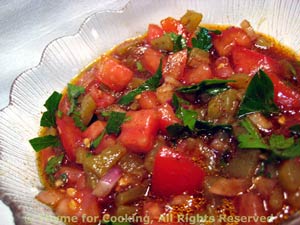 Instructions:
You either need to use skewers or a grill mat or pan; something to keep the scallops from falling through the grate.  If using wooden skewers soak in water for a few minutes. 
Pour olive oil onto a large plate.  Dip both sides of scallops into oil. 
Thread onto skewers if using. 
Sprinkle both sides with garlic and chili. 
Grill over direct heat 3 - 5 minutes per side, until they are opaque. 
Remove and serve. 
Tomato Salsa:
Roughly chop tomatoes, chop onion and pepper. 
Drain and chop chiles. 
Snip herbs. 
In medium bowl whisk together dry mustard, vinegar and soy sauce. 
Add chili powder and whisk. 

Add all remaining ingredients and stir well to combine.  Serve.

 

Add hot sauce if you like...
Notes:  Scallops could also be quickly sautéed in a nonstick skillet over medium high heat for about the same amount of time.
Any leftover salsa can be eaten with chips, crackers, whatever.... I just like to have some around!