Lentil Salad with Mozzarella
Scallops with Maple Mustard Sauce
Zucchini and Rice Gratin
Scallops with Maple Mustard Sauce
Total time: 15 minutes
    Use the larger sea scallops for this if you can..... Scallops are best when cooked quickly as overcooking tends to make them tough. Use fairly high heat; they can give off a lot of liquid, and you want them to fry, not steam.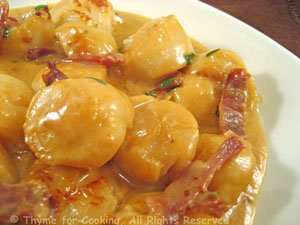 Ingredients:
10oz (300gr) large scallops
2 slices Prosciutto
1 tbs Dijon-style mustard
2 tsp maple syrup
1/3 cup (3oz, 90gr) Greek or plain yogurt
1/3 cup (1.5oz, 45gr) Parmesan cheese
1 tbs fresh tarragon  

substitute 1 tsp dried

1 tbs olive oil
 Instructions:
Roughly chop Prosciutto. 
Heat oil in a nonstick skillet over medium-high heat. Add Prosciutto and sauté until crisp. 
Remove with a slotted spoon and set aside.
Add scallops and fry until lightly golden, then turn and fry the other side, 4 - 5 minutes total.  Scallops are done when they turn opaque.
Remove and keep warm.
Reduce heat to medium and add mustard, maple syrup, yogurt. 
Stir well to scrape up any browned bits.  Heat through but do not boil. 
Add Parmesan, tarragon, Prosciutto and stir well. 
Spoon over scallops and serve.