Zucchini (Courgette), Tomato and Mozzarella Stacks
Grilled Scallops on Avocado Sauce
Barley with Chives
Lentils Provençal
Grilled Scallops on Avocado Sauce
Total time: 20 minutes
   With the sweet scallops and creamy avocado, this is a rich dish.... I served fewer scallops than usual.  Use a grill pan or basket for easy handling and be careful not to overcook.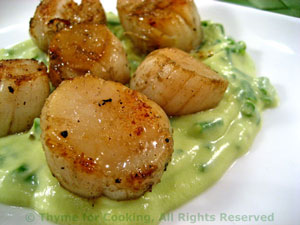 Ingredients:
 Instructions:
Mix oil, cumin and lime juice. 
Add scallops and stir to coat.
Avocado Sauce:
Purée avocado, yogurt, lime juice and chicken stock in a blender until smooth. 
Stir in chives.
Grill scallops over direct heat 3 - 5 minutes per side, just until they are opaque.

Note:

  Could also be quickly sautéed in a nonstick skillet over medium high heat for about the same amount of time.

To serve:

Divide Avocado Sauce and spoon onto 2 plates.  Arrange scallops on Sauce and serve.
Note: Wrap remaining avocado half in cling film, place, cut side down, on a plate and refrigerate.