Warm Chickpea and Spinach Salad with Chevre
Glazed Salmon with Tarragon Mustard
Sautéed Polenta Cakes
Broccoli with Garlic and Parmesan
Glazed Salmon with Tarragon Mustard
Total time: 30 minutes
   Salmon is a versatile fish that works well with many different flavors.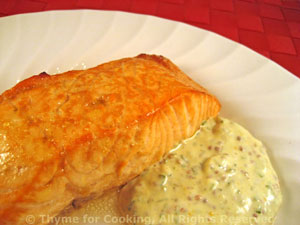 Ingredients:
2 salmon fillets or steaks, 6oz each (180gr each)
1 tbs brown sugar
1 tbs lemon juice
1 tbs soy sauce
1 tbs white wine
1 tbs olive oil

Tarragon Mustard:

1 tbs brown or whole grain mustard
1 tbs Dijon-style mustard
3 tbs Greek or plain yogurt
1 tsp dried tarragon
1 tsp dried chives
 Instructions:
In a small bowl mix sugar, lemon, soy sauce, wine and oil. 
Put the salmon, skin side down, in a baking dish. 
Pour marinade over and let marinate for 10 - 20 minutes, spooning marinade over periodically. 
Bake in 400F (200C) oven for 15 - 20 minutes, depending on thickness.  Salmon will be done when it flakes easily, slightly pink in the center is fine. 
Serve with Tarragon Mustard.

Tarragon Mustard:

Mix all ingredients, at least 10 minutes before using.