Salmon Patties with Caper Tarter Sauce
Total time: 20 minutes
   Canned salmon and tuna have long been pantry staples. especially in areas that run the risk of being snowbound in the winter months.  I normally remove the skin from the salmon, but not the bones.  They're very soft from being cooked, and are an excellent source of calcium.  Mash them a bit with a fork if needed.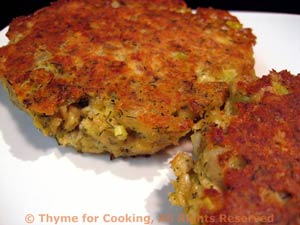 Ingredients:
8oz (240gr) salmon, net weight 
1 tbs Dijon-style mustard
1 tbs capers
1 tbs dried chives
3 tbs bread crumbs
2 eggs
1 tbs olive oil
Tarragon Caper Tarter Sauce:
1/2 cup (4oz, 120gr) mayonnaise
1 tbs lemon juice
3 - 4 tbs chopped dill pickle (2 medium - index finger size)

or more capers

1 tbs chopped capers
2 tsp dried chives
2 tsp dried tarragon
1 clove garlic, minced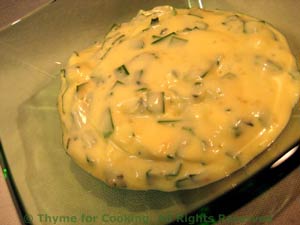 Instructions:
Drain the salmon and put into a large bowl, breaking it up with a fork. 
Roughly chop capers.
Whisk eggs in a small bowl. 
Add mustard, capers, chives and breadcrumbs, mix well. 
Add egg mixture to salmon and gently mix. 
Divide into 4ths.
Heat oil in medium nonstick skillet over medium heat. Add salmon, forming into patties. 
Fry, 7 - 9 minutes, until starting to brown. 
Carefully turn with a spatula and sauté another 5 - 6 minutes.
 Remove and serve, tarter sauce on the side.
Tarragon Caper Tarter Sauce:
Mix all ingredients. 

Best if made at least 15 minutes early to allow flavors to blend.

 

The dried herbs will absorb a bit of the lemon juice.