Grilled Glazed Salmon
Total time: 20 minutes
    Using a natural sweetener like maple syrup or honey brings out the sweetness in the salmon.  Combined with a bit of Balsamic it creates a rich, thick glaze, keeping the salmon moist and tender.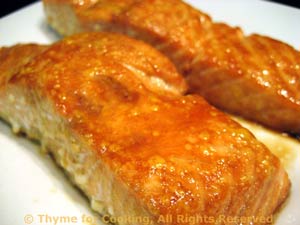 Ingredients:
2 salmon fillets, 6oz each (180gr each)
1 tsp chili powder
1/2 tsp garlic powder
2 tsp maple syrup or honey
1 tbs Balsamic vinegar
1 tbs olive oil

1 tbs lemon juice

  

fresh is good
 Instructions:
In small bowl mix all ingredients except salmon and lemon. 
Drizzle over salmon and allow to marinate for 15 minutes. 
Put salmon in a grill basket if using barbecue grill or on mesh grill pan if you don't have a basket.  Grill for 10 - 12 minutes, skin-side down, with the grill cover closed.  Be careful not to overcook. 

OR

put on baking sheet and roast in 400 F oven for 15 - 20 minutes, depending on thickness.  In both case salmon will be done when it flakes easily, slightly pink in the center is fine. 
Remove from heat and slide the salmon off the skin if needed. 
Sprinkle with lemon juice and serve.