Warm Stuffed Zucchini (Courgette) Cups
Grilled Salmon with Dill Sauce and Salad
Potato Salad with Mushrooms and Chevre
Grilled Salmon with Dill Sauce and Salad
Total time: 20 minutes
     Dill is often passed by as an herb (other than for dips) but it pairs well with fish and adds flavor to salad dressings.  There is a lot of salt on the fish, but it's brushed off before eating.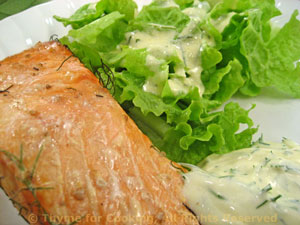 Ingredients:
2 salmon fillets, 6oz each (180gr each)
lettuce for 2 small salads
2 tbs snipped fresh dill leaves (weed), divided
1 tsp coarse salt
1/4 cup (2oz, 60gr) Greek or plain yogurt
2 tbs mayonnaise
5 tsp white Balsamic vinegar
2 tbs salad olive oil, divided
1/2 tsp Dijon-style mustard
1/2 tsp garlic powder
 Instructions:
Salmon: 

Sprinkle 1 tbs dill evenly over salmon. 
Sprinkle salt on top of dill. 
Cook on barbecue grill 5 - 7 minutes per side, depending on thickness.

OR

put on baking sheet and roast in 400 F oven for 15 - 20 minutes, depending on thickness. Salmon should flake easily with fork when done but it's okay to have it still a bit pink in the center. 
Remove and with a fork or table knife gently scrape the salt and dill off of the salmon.

Dill Sauce:

 
Mix yogurt, mayonnaise, garlic, 3 tsp vinegar and remaining 1 tbs dill. 
Add olive oil and whisk until combined.

Salad Dressing:

Put 1 tbs Dill Sauce in another small bowl.
Add 2 tsp white Balsamic vinegar, 1/2 tsp mustard and whisk well. 
Slowly whisk in 1 tbs olive oil.

To finish:

 
Prepare lettuce and arrange on plates. 
Lay salmon next to lettuce. 
Spoon a bit of Dill Sauce next to the salmon and drizzle the dressing on the lettuce.  Serve.