Warm Savoy Cabbage and Leek Salad
Pan-Fried Salmon with Gnocchi
Sautéed Carrots with Leeks
Pan-Fried Salmon with Gnocchi
Total time: 25 minutes
     This could be made with any firm fish, but we like salmon, and it's always reasonably priced where we live.  Frying the gnocchi makes them light as feathers.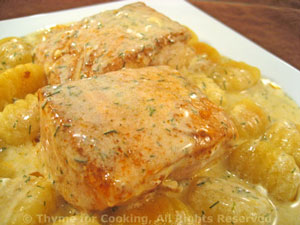 Ingredients:
 Instructions:
Gnocchi:

 

Boil gnocchi in rapidly boiling, salted water just until it floats.  Drain.

Heat oil in a medium skillet, large enough to hold the gnocchi in a single layer.  Add gnocchi and brown lightly on both sides, about 10 minutes.

Salmon:

 

Cut salmon filets into 2 or 3 large pieces.

 Heat oil in a large skillet over medium heat.  Add cumin, paprika and sauté 30 seconds.
Add salmon pieces and brown lightly on both sides, about 5 minutes.
Reduce heat, cover and cook until salmon is done, about 10 minutes longer. It will be opaque and flake easily when done.
Remove salmon to a plate and cover to keep warm.
Add stock, sherry, dill and mustard to skillet, stirring to get up the brown bits. 
When simmering, remove from heat and stir in yogurt and 1 tbs Parmesan.

To serve: 

Divide gnocchi on to 2 plates. 

Top with salmon, spoon sauce over, sprinkle with remaining Parmesan and serve.