Pimiento Soup with Mascarpone
Sautéed Salmon with Warm White Bean Salad
Barley with Green Garlic and Chives
Pan-Fried Salmon with Warm White Bean Salad
Total time: 25 minutes
    Salmon cooks quickly and is done when just barely opaque, and starts to flake easily.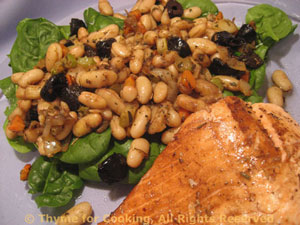 Ingredients:
2 salmon fillets, 12oz (360gr) total weight
1 tbs olive oil
1 tbs Balsamic vinegar
1 1/2 cups (15oz, 450gr) white beans
1 small - medium carrot
2 shallots
1 rib celery
2 cloves garlic
1/4 cup Greek olives
1 tsp basil
1 tbs oil
1 tbs Balsamic vinegar
2oz (60gr) spinach
 Instructions:
The salmon
Heat the oil and vinegar over medium heat in a large skillet. 
Add salmon, skin side up, and sauté 3 minutes.
Turn, skin side down, and sauté another 3 - 5 minutes, until done.
Slip the salmon off the skin and serve.
The Salad
Roughly chop the shallots, carrot and celery.  You should have about 1/3 cup of each. 
Mince the garlic. 
In a medium skillet over medium heat, sauté the carrot, celery, shallots and garlic in olive oil until tender, 5 - 8 minutes.
Pit olives if needed; cut in half.
Open, drain and rinse beans. 
Add olives, beans, basil and vinegar to skillet.  Heat through. 
Serve salad on a bed of spinach, next to the salmon.