Avocado and White Bean Salad
Baked Salmon with Horseradish
Potatoes with Prosciutto, Olives and Green Garlic
Beets with Butter and Parsley
Baked Salmon with Horseradish
Total time: 25 minutes
   We use fillets but salmon steaks will work as well; add another 5 - 10 minutes for steaks.  The mild heat of the horseradish and mustard works well with the sweet salmon.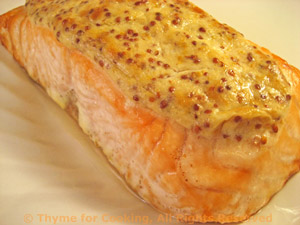 Ingredients:
2 salmon fillets, 12oz (360gr) total weight
3 tbs Greek or plain yogurt
2 tsp horseradish

or more if you like heat

2 tsp whole grain mustard
2 tsp olive oil
 Instructions:
Mix all of the above (except salmon). 
Put salmon on a lightly oiled baking sheet.  Divide mixture evenly and spread over salmon. 
Bake at 400 F for 15 - 17 minutes, until top is light brown and fish flakes easily.  
Serve.
Note:  For easy clean up cover pan with foil first.  This is especially nice if you are using fillets with the skin on.  You can carefully lift the salmon off the skin to serve, leaving the skin on the foil.  Then wrap the whole mess up and toss.