Oriental Baked Salmon
Total time: 25 minutes
    The combination of hot mustard with salty soy sauce is perfect with the sweet, slightly fatty salmon.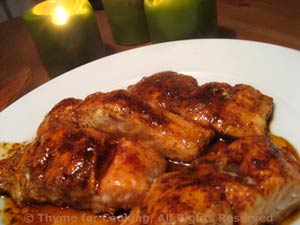 Ingredients:
2 salmon fillets or steaks, 12oz (360g) total weight
1 tbs Dijon-style mustard
1 tbs soy sauce
2 tbs olive oil
1 tsp chili powder
1/2 tsp garlic powder
 Instructions:
Mix mustard, soy sauce, oil, chili powder and garlic, whisking well to combine.  
Put salmon on a baking sheet with a lip. 
Spoon mustard mixture over salmon.
Roast in 400F (200C) oven for 10 - 15 minutes, depending on thickness.  Salmon will be done when it flakes easily, slightly pink in the center is fine. 
Remove and serve.