Baked Tomatoes with Pesto
Grilled Cod with Caper, Green Olive Tarter Sauce
Sautéed Polenta Cakes 
Sautéed Chard with Tomatoes
Grilled Cod with Caper, Green Olive Tartar Sauce
Total time: 25 minutes
   I get a long piece of cod 'back' that is without bones and perfect for grilling.  Cut it in half for easier handling and serving.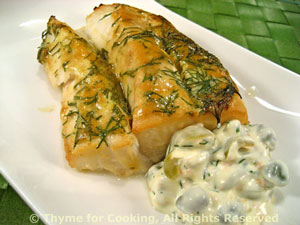 Ingredients:
1 - 2 filets of cod, or other thick, firm white fish, 12oz (360gr) total weight

1 tbs white Balsamic vinegar
1 tbs Dijon-style mustard 
1 tbs olive oil
2 tsp dill weed
Caper, Green Olive Tarter Sauce:
8 green, pimiento stuffed olives   about 2 tbs chopped
1 tbs capers
2 tsp dill weed
3 tbs Greek or plain yogurt or all mayonnaise
1 tbs mayonnaise
2 tsp lemon juice
 Instructions:
Cod:
In a small bowl whisk together the vinegar, mustard, oil and 2 tsp dill weed.  Spoon over the cod. 
Cook on barbecue grill, covered or partially covered, 14 - 18 minutes, without turning.
OR put on baking sheet and roast in 400 F oven for 15 - 20 minutes, depending on thickness. 
It will be opaque and flake easily with fork when done. 
Caper, Green Olive Tarter Sauce:
Chop olives and capers if the are large.
Put all ingredients in a small bowl and stir to combine.
When the fish is done, transfer to a small platter and serve, Caper, Green Olive Tarter Sauce on the side.