Carrot & Gruyère Timbales with Tomato Sauce 
Total time: 45 minutes
    Shredded carrots and Gruyère cheese combine to make an interesting timbale for a first course.  The carrot retains a light crunch, and the sweetness pairs well with the slightly sharp cheese.  A bit of tomato sauce is all that's needed to finish.  Using drained canned tomatoes give the sauce a much fresher flavor than using regular tomato sauce.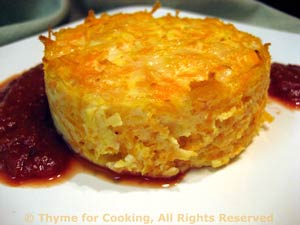 Ingredients:
6oz (180gr) grated carrot  

about 2 medium

1/2 cup (2oz, 60gr) grated Gruyère cheese
1 egg
1/2 tsp dry mustard
1 tbs milk
Tomato Sauce:
15oz (450gr) whole tomatoes, drained
2 shallots
1 clove garlic
1 tbs olive oil
1 tsp dried basil
1 tsp sugar
1 tbs red wine
 Instructions:
Butter two ramekins and line the bottoms with buttered waxed paper (makes getting them out much easier). 
Put a medium saucepan half full of water on medium-high heat.
Grate carrot first, then cheese, using the fine holes of your trusty box grater.  Keep them separate. 
When the water is boiling blanch the carrots for 30 seconds, drain and rinse with cold water.
Using your hands gently squeeze them dry.
Beat egg lightly.
Add carrots, cheese, mustard, milk and mix well.
Spoon into prepared ramekins.
Put into a roasting pan with deep sides -

I use a metal bread pan

, and add hot water

(hot tap water is fine)

so that it comes half way up the sides of the ramekins.
Bake for 25 minutes at 400F (200C) - they should be set - firm on top.
Remove from oven and from hot water.
Run a table knife around the sides to loosen.
Put a small plate over top of ramekin and flip over.
Remove ramekin, and paper from top (formerly bottom) of timbale.
Turn timbale over. Spoon tomato sauce around half of timbale and serve.
Tomato Sauce
Finely chop shallots and garlic.
Heat oil in small sauce pan over medium heat.  Add shallots and garlic and sauté until tender, about 5 minutes.
Roughly chop the tomatoes and add along with the rest of the ingredients.
Reduce heat, cover and simmer for 10 minutes.
Purée (either with a blender or immersion blender) and serve on the side.