Red Onion and Ricotta Tart
Turkey Rolls Stuffed with Ricotta and Olives
Potato - Tomato Gratin
Broccoli with Garlic Butter
Red Onion and Ricotta Tart
Total time: 35 minutes
   I used red onions for this, but any sweet onion will work.  You want to be careful not to get them too browned in the skillet, as they will brown further in the oven.... Aim for 'mostly' browned.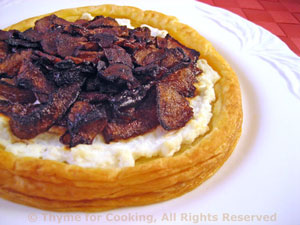 Ingredients:
1 large red or sweet onion
1/4 cup ricotta (2oz, 60gr)
1 tbs Balsamic vinegar
2 tsp olive oil
2 tsp butter

1/2 sheet puff pastry - if there is a second sheet, freeze it

 

Puff pastry can be refrozen twice
 Instructions:
Pastry: 
Thaw the puff pastry, if needed. 
Lay pastry out flat and cut 2 large circles, 5 - 6" in diameter (13 - 15 cm).  Use a soup bowl as a guide.  Lay the circles on a baking sheet. 
With a dull knife, lightly score a line about 1/3" (1cm) inside the edge of the pastry.  It helps the edges to raise.
Onions: 
Roughly chop onion, leaving fairly big pieces.
Heat butter and oil in medium nonstick skillet over medium-high heat. 
Add onions and cook, stirring frequently, until transparent and starting to brown. 
Reduce heat to medium-low and cook, slowly, until brown and caramelized, about 15 minutes longer.  
Remove from heat and stir in vinegar.
To assemble: 
Divide ricotta and spread on each puff pastry circle to scored line. 
Divide onions and spread on ricotta. 
Bake in a pre-heated oven at 400F (200C) for 12 - 15 minutes, until sides of pastry have puffed around middle and are golden brown. 
Remove and serve.