Chevre and Pimiento Pastries
Shrimp in Green Sauce
Polenta with Fresh Herbs
Asparagus with Olive Oil and Lemon
Chevre and Pimiento Pastries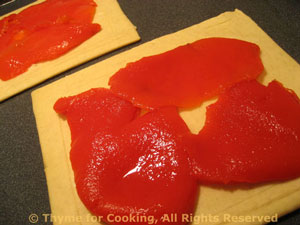 Total time: 20 minutes
    This is a simple pastry, made with 'pantry' ingredients.... Just assemble and bake.
 Ingredients:
3oz (90gr) goat cheese 

a proper goat cheese: log-shaped and wrapped in paper.  It will have a thin, whitish, rind that is edible, substitute Brie or Camembert.

7oz (210gr) drained pimentos or roasted red peppers  net weight
2 tsp dried oregano, divided
1/2 sheet puff pastry
1 cup (8oz, 240ml) tomato sauce
1 tsp Worcestershire sauce
1 tsp Balsamic vinegar
1 tsp brown sugar
 Instructions:
Thaw the puff pastry, if needed. 
In a small saucepan heat the tomato sauce, Worcestershire, vinegar, sugar and 1 tsp oregano to a simmer. 
Cover and keep warm until needed.
Open and drain pimientos or red peppers.  If whole cut in half or slices.
Thinly slice goat cheese.
Lay out puff pastry and cut two 4 X 5 inch rectangles (10 X 12cm).   
Lay the cut pastry on a baking sheet. With a table knife, score a line around the edge of each pastry, about 1/3" (1cm) from the edge.
Divide the peppers and arrange within the scored lines on each pastry. 
Divide the goat cheese and lay on the peppers. 
Sprinkle with 1 tsp oregano . 
Bake in a pre-heated oven at 400F (200C) for 12 - 15 minutes, until sides of pastry have puffed up and are golden brown. 
Remove and serve with Tomato Sauce on the side.