New Year's Eve Dinner
Chevre and Prosciutto Tarts
Coquilles St. Jacques
Basmati Rice with Lemon
Cauliflower with Browned Butter
Coffee and Chocolates
Chevre and Prosciutto Tarts
Total time: 35 minutes
     We are using filo (phyllo) dough to make cups for these little tarts, filled with Prosciutto and Goat Cheese.  They could be made smaller, using a small muffin pan, and eaten out of hand.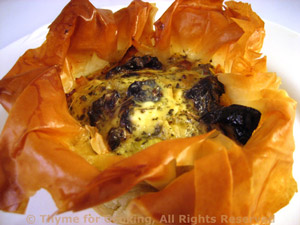 Ingredients:
2 sheets filo (phyllo) dough
1 slice Prosciutto
1 small leek
6 Greek olives, dry-cured
1 egg
3 tbs chevre, soft goat cheese
1 tsp basil
1 tbs olive oil, divided
 Instructions:
Place 2 ramekins, 2 1/2 - 3" (6 - 7cm) on a baking sheet, brush lightly with oil and set aside. 
Lay out 1 sheet of filo and, using pastry brush, lightly brush all over with olive oil. 
Fold the sheet in half, lightly brush the top. 
Fold in half again, the other way, so you have a small square.  Brush the top lightly with olive oil. 
Pick the filo up by bringing all 4 corners together and carefully put inside a ramekin. 
Smooth out the bottom a bit so it kind of lines the ramekin, leaving the 4 corners to hang over the edge.  It should all be rather loose. 
Repeat with other sheet and ramekin. 
Thinly slice the leek and sauté in 1 tsp oil until tender. 
Divide and place into phyllo-lined ramekins.
Divide the chevre and put on top of leeks.
Roughly chop the Prosciutto and add. 
Cut the olives in half (remove pits) and add. 
 In small bowl whisk together egg and basil. 
Divide egg and spoon on top of olives.
Bake at 400F (200C) for 20 - 25 minutes. 

The corners hanging over the edges will get quite brown very quickly - don't worry, they won't burn (Or, at least, mine didn't)

When done remove from oven and carefully remove filo cups from ramekins.  Kind of wiggle, then turn upside down into your hand. 
Serve, garnished with a few more olives.