Spanokopitta
Total time: 30 minutes
    This classic Greek pie is similar to a strudel.  Made with cooked spinach, feta and herbs; baked to a golden brown; it is a lovely first course.  They can be made smaller for finger food and the recipe easily expands to serve more.  If filo is frozen (try to get fresh) remember to thaw earlier.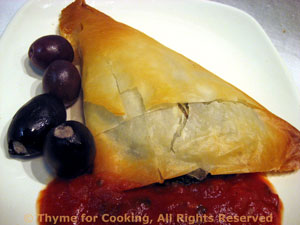 Ingredients:
 Instructions:
Thaw spinach, squeeze dry and put into a bowl. 
Add feta, mash it with a fork and mix into spinach. 
Add herbs.  Mix well and divide in half. 
Remove 1 sheet of pastry and re-wrap the rest.  It's important to keep phyllo covered at all times or it will dry out very quickly. 
Lay the sheet out flat and lightly brush all over with olive oil.  
Fold in half the long way.  Brush top layer with oil. 
Take one corner of the phyllo and lightly fold it so that the corner touches the opposite side.  Do not actually make the fold.  We just want to determine the placement of the spinach.  It will form a triangle. 
Unfold it and place half of the spinach on the half of the triangle that will be the 'bottom'. 
Now make the fold, taking the corner to the opposite side. 
Continue to fold over and over, maintaining the triangle, like a flag.  (It will make sense when you are doing it)  You will end up with a nicely sealed triangle. 
Brush the top and bottom with olive oil and place on a baking sheet. 
Repeat with the rest of the spinach. 
Bake at 400F (200C) for 15 - 20 minutes, until the pastry is golden brown. 
To serve: 
Spoon half the tomato sauce (2 tbs) onto each of 2 plates. 
Lay a Spanokopitta next to the sauce, garnish with some olives if you have them and serve.