Tomato Garlic Soup
Veal Saltimbocca alla Romana
Fried Gnocchi
Butternut Squash with Browned Butter
Fresh Tomato and Garlic Soup
Total time: 35 minutes
    Hot soup, perfect for cooler fall evenings but, with garden fresh tomatoes, still has the flavors of summer.  I used vermicelli, but any small pasta would work.  Or you could use spaghetti, breaking it into 1" (2.5cm) lengths.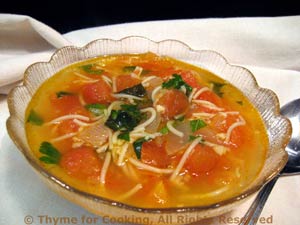 Ingredients:
 Instructions:
Finely chop onion and garlic.
Sauté in medium saucepan in olive oil over medium heat until soft and transparent, 7 - 10 minutes. 
Peel tomatoes and chop roughly. 
Add tomatoes to onion and garlic and sauté for 5 minutes. 
Add chicken stock and pasta, cover and simmer over low heat for about 15  - 20 minutes, depending on pasta, stirring every few of minutes so pasta doesn't stick. 
Remove from heat, add herbs, vinegar and serve.
Note: To peel tomatoes blanch in boiling water for 30 seconds, then plunge into cold water.  Peels should slip off easily.