Tomato Cannellini Soup
Total time: 20 minutes
     Another pantry soup: easily put together from staples.  Using whole tomatoes gives the soup a fresher taste - like summer in a bowl.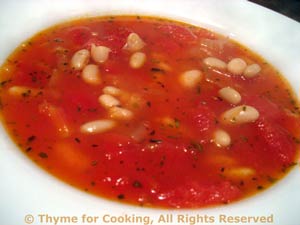 Ingredients: 
1/2 medium onion
2 cloves garlic
2 tsp olive oil
1 3/4 cups (15oz, 450gr) whole tomatoes 
1 1/2 cups (15oz, 450gr) white beans, cannellini
1 cup (8oz, 240ml) chicken stock
1 tsp basil
1 tsp oregano
 Instructions:
Roughly chop onion and mince garlic.  Sauté in oil until tender.
 Roughly chop tomatoes, reserving all juices. 
Drain and rinse beans. 
Add tomatoes, juices, beans, stock and herbs to onions. 
Cover and simmer 15 minutes. 
Serve.