Summer Squash Soup
Grilled Swordfish with Olive Shallot Relish
Barley Salad with Sautéed Peppers
Summer Squash Soup
Total time: 25 minutes
    This is a lovely, summery color, reminding me of the sunflower fields that are everywhere in late summer.  A red tomato would work for flavor - the color would be more orange.....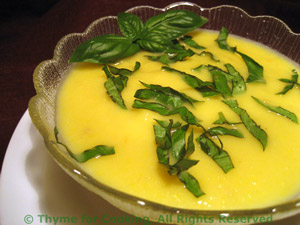 Ingredients:
 Instructions:
Chop onion, squash and tomato. 
In a medium saucepan heat the chicken stock, onion, tomato and squash. 
Cover and simmer until squash. is tender, about 15 minutes.
Purée.  
Serve, either hot or cold, garnished with basil.