Pasta and Cannellini Soup
Baked Salmon Dijon
Polenta Timbales
Broccoli with Cheese Sauce
Cannellini and Pasta Soup
Total time: 20 minutes
    This is what I call a pantry soup: easily put together from pantry staples.  This is a first course.  For a light lunch, add more pasta and beans.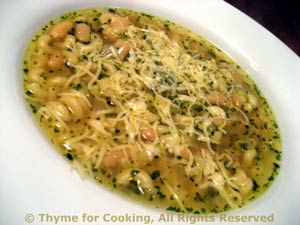 Ingredients:
1/2 medium onion
2 tsp olive oil
2 cups (16oz, 480ml) chicken stock
1/4 cup small pasta 
7oz (210gr) white beans 
1 tbs dried parsley
2 tbs shredded cheese
 Instructions:
Roughly chop onion and sauté in oil until tender.
Add chicken stock and heat to boiling.
Add pasta and cook, partially covered, until pasta is tender.
Open, drain and rinse beans.  Add beans, parsley to soup and heat through.
Divide into 2 serving bowls, sprinkle with cheese and serve.