Hot and Sour Soup
Total time: 10 minutes
   I don't know what it is about this simple soup that makes it so delicious.  Everyone who tastes it loves it.  I use a few slivered mushrooms or a bit of deli ham or smoked turkey for garnish.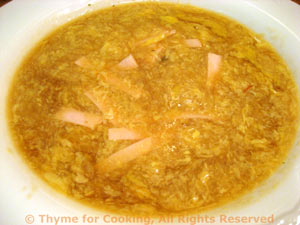 Ingredients:
 Instructions:
Clean mushrooms and cut each into thin slivers. 
Heat 2 1/2 cups chicken stock to boiling. 
Crack eggs into medium bowl and whisk lightly. 
Dissolve cornstarch into remaining 1/2 cup of chicken stock.  Add to boiling stock, stir until thickened and clear. 
Add soy sauce and vinegar. 
Pour in eggs, stir once or twice only. 
Ladle into 2 bowls.  Sprinkle slivered mushrooms (and/or ham) on top and serve immediately.