Cool Carrot Soup
Total time: 25 minutes
     The soup is cool but the spices add a bit of warmth.  Use hot paprika or a bit of cayenne pepper for more heat.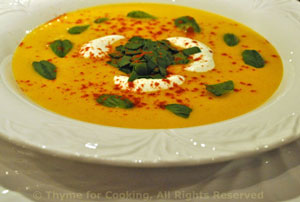 Ingredients:
1 medium onion
2 medium carrots, peeled
1 small potato 

about 2/3 cup chopped

1 rib celery
2 cups (16oz, 480ml) chicken stock
1/2 tsp cumin
1/2 tsp paprika
1/4 tsp powdered ginger
1 tbs butter
2 tbs basil leaves
2 tbs plain or Greek yogurt
Paprika
 Instructions:
Chop onion.
Thinly slice carrot, celery.
Roughly chop potato.
Heat butter in medium saucepan.  Add onion, celery and sauté until tender, about 5 minutes. 
Add spices and sauté 1 minute longer
Add carrots, potato and stock.  Bring to a boil, cover, reduce heat and simmer until carrots are done, about 15 minutes. 
Purée solids in blender adding as much (or all) of the stock as you like. If soup is too thick, add more stock. 
Chill soup or allow to cool to room temperature.
Snip basil leaves if they're large. 
Ladle the soup into bowls, top with yogurt and basil leaves. 
Sprinkle with a bit more paprika and serve.