Butternut Squash Soup
Roast Turkey with Madeira
Sage, (Giblet) and Celery Stuffing
Fresh Spinach Gratin
Cranberry Cheesecake Pie
Simple Butternut Squash Soup
Total time: 30 minutes
    Butternut squash makes a lovely, creamy soup with no cream and very little fat.  A dollop of crème fraiche or sour cream to finish and you have the perfect autumn soup.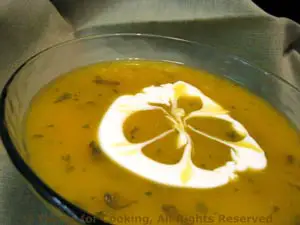 Ingredients:
1 medium leek
1/3 butternut squash   

about 2 cups, cubed

2 cups (16oz, 480ml) chicken stock
1 tbs olive oil
pinch of nutmeg
1 tsp dried sage
2 tsp dried parsley
2 tbs crème fraiche or Greek Yogurt
 Instructions:
Note:  To clean butternut squash first peel it, using a potato/vegetable peeler.  If it's large (typically) cut it in half between the 'neck' and 'bowl' ends.  Then cut those in half the 'long' way.  Scoop the seeds out of the round end and discard.  I use the neck end for uniform pieces and the bowl end for soups and smaller pieces. Wrap what you're not using in plastic wrap and refrigerate.