Shrimp on Avocado Cream
Total time: 15 minutes
   The is a knife and fork sandwich, modeled on the famous Smorbrod or open-faced sandwiches of the Scandinavian (and Austrian) countries.  If you have Avocado Cream left - have it on toast for breakfast.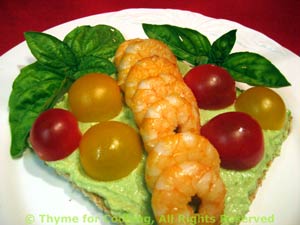 Ingredients:
12 - 14 medium shrimp
1 tbs butter
1 tbs lemon juice
1 tsp pepper
1 small ripe avocado
1 tsp lemon juice
1/4 cup (2oz, 60gr) Greek or plain yogurt
6 cherry tomatoes, yellow, red
2 pieces whole-grain bread   

or whatever you have
 Instructions:
Peel and devein shrimp if needed. 
Melt butter; add lemon and pepper. 
Toss shrimp with lemon butter. 
Cook on barbecue grill for 5 minutes or until done. 
Or sauté in nonstick skillet for same amount of time.  Remove and set aside. 
Remove avocado from shell and put into a bowl. 
Add lemon juice and mash with a fork. 
Add the yogurt and mash with the avocado. 
Slice the cherry tomatoes in half. 
Toast the bread. When done, remove the crusts and allow to cool. 
To assemble:
Generously spread the avocado cream on the toast.
Artfully arrange shrimp and tomatoes, and serve.