Winter Salad of Endive and Savoy Cabbage
Braised Veal with Garlic
Gnocchi
Parmesan Sunchokes Slices
Winter Salad of Endive and Savoy Cabbage
Total time: 15 minutes
    The cabbage and endive are sautéed briefly to warm and soften, then finished Mediterranean style.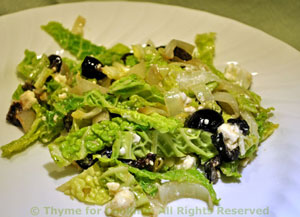 Ingredients:
1 medium endive 

Belgian Endive

1 1/2 cups shredded Savoy cabbage, about 1/4 head
2 tsp olive oil
10 Greek dry-cured olives
1 tbs capers
2.5oz (75gr) feta cheese
1 tsp Dijon-style mustard
1 tbs white Balsamic vinegar
2 tbs good olive oil
 Instructions:
Vinaigrette:

In a small bowl mix vinegar and mustard.
Slowly add olive oil, whisking constantly until well combined.

Salad:

Trim endive.  Cut in half the long way, then slice thinly across the leaves (the short way).
Cut a slice of cabbage, avoiding the core. Lay flat, cut into 3 or 4 wedges, then thinly slice the wedges.
Pit olives if needed and roughly chop.
Heat 2 tsp olive oil in medium skillet.
Add endive, cabbage and sauté until just barely starting to wilt. Remove from heat and put into a bowl.
Add capers, Greek olives, crumbled feta and vinaigrette. 
Toss well to combine and serve.