Wilted Lettuce Salad
Grilled Turkey Pesto Rolls
Faux Patatas Bravas
Green Beans with Butter and Pine Nuts
Wilted Lettuce Salad
Total time: 10 minutes
     This is an old-fashioned salad, normally made with freshly picked leaf lettuce rather than head lettuce. I use Black-Seeded Simpson, but any loosely packed head with delicate leaves, like Red or Green Oak Leaf or Salad Bowl will work.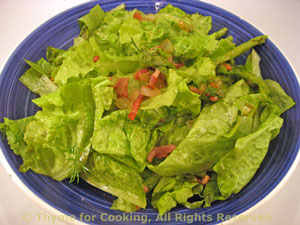 Instructions:
8oz (240gr) leaf lettuce

2 tbs fresh dill

3oz (90gr) bacon
1 shallot
1/4 cup (2oz, 60gr) cider vinegar
1 tsp sugar
2 tsp olive oil
 Instructions:
Wash lettuce and spin dry. 
Pile it up and cut it 3 or 4 times with a large knife. 
Roughly chop dill.
Chop shallot.
Slice bacon into matchsticks. 
Heat oil in a very large skillet.  Add shallots, bacon and fry until bacon is crisp. 
Add vinegar, sugar and heat through.
Remove skillet from heat, add lettuce and dill.  It may not all fit at first.  Using a tongs, carefully turn and toss the lettuce, coating it the vinegar bacon mixture.  Add more lettuce as the lettuce in the skillet wilts down, until all added.  Give it one final toss, serve and eat immediately.