Lentil and Herb Salad
Total time: 35 minutes
  Legumes of all types make wonderful salads.  I use the small, Lentille Verte du Puy for this but you can use the larger tan or brown, as well.   Check your package for correct cooking times...  or taste!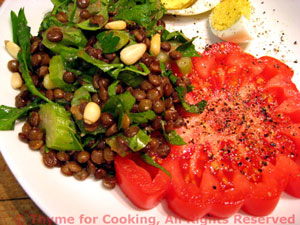 Ingredients:
1/4 cup small green lentils (Lentille Verte du Puy)  

or tan or brown

1/2 cup (4oz, 120ml) beef stock
1/2 cup (4oz, 120ml) water
1/2 cup sliced celery,  1 - 2 ribs
1/4 cup snipped, fresh parsley
1/4 cup snipped, fresh basil
1 tbs toasted pine nuts  

for garnish

1 egg, hard-boiled
1 tomato
Lemon Vinaigrette:
2 tsp lemon juice
2 tsp white Balsamic vinegar
2 tsp Dijon-style mustard
6 tsp good olive oil
 Instructions:
Hard boil egg.
Cook lentils in stock and water until done, about 30 minutes. Drain.
While the lentils cook, slice the celery, snip the herbs and make the vinaigrette. 
Lemon Vinaigrette:
In small bowl whisk lemon juice, vinegar and mustard. 
Add olive oil 1 tsp at a time, whisking to emulsify.
When lentils are done (taste to check), put into a small bowl. 
Add the celery, parsley, basil and vinaigrette.  Toss gently to combine.
Thickly slice tomato. 
Peel egg and quarter, the long way. 

To serve:

On two small plates arrange the tomato slices. 
Divide the lentil salad and add to plates. 
Add two quarters of egg to each plate. 
Sprinkle the lentil salad with pine nuts and serve.
Note:
  To toast pine nuts, heat small nonstick skillet over medium heat.  Add pine nuts and toast, shaking pan occasionally until golden, 4 - 5 minutes.